Sonax
Regular price
Sale price
€20,99 EUR
Unit price
per
Sale
Sold out
Polish set for the manual removal of local scratches and scuffs from clear coats. In 2 - 3 simple steps, even deep scratches can be removed, as long as they do not extend to the base coat or primer. For colored and metallic as well as scratch-resistant paints.
Share
View full details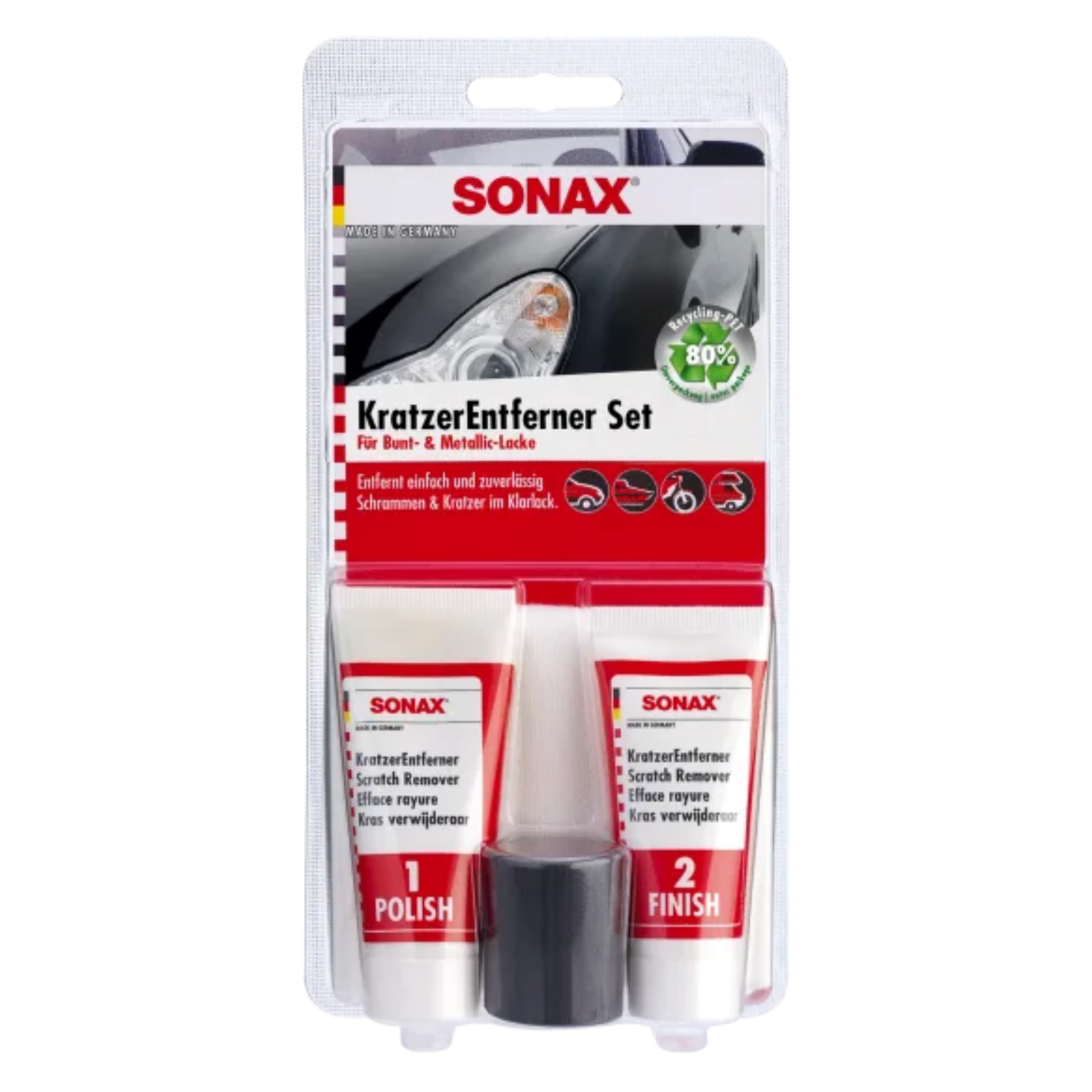 SONAX scratch remover set paint
Anwendung

1. Anschleifen:
Je nach Tiefe des Kratzers kann ein Anschleifen erforderlich sein. Dazu
den Lack mit Wasser anfeuchten, eine der beiliegenden Schleifblüten
unter den PolierStempel kleben und mit minimalem Druck kreisförmig über dem Kratzer behutsam schleifen. Nicht bis zur Grundierung durchschleifen und nicht verkanten! Anschließend Schleifrückstände mit einem beiliegenden PolierVlies abwischen. Es bleibt eine matte Stelle zurück.
ACHTUNG: Das Anschleifen ist nur bei tiefen Kratzern erforderlich. Viele Kratzer und Schrammen lassen sich.
2. Vorpolieren:
SONAX Polish 1 aus der Tube auf die verkratzte bzw. bereits angeschliffene Stelle geben. Ein sauberes PolierVlies mehrere Male falten und den PolierStempel damit einwickeln. Mit dem PolierStempel und dem PolierVlies so lange mit hohem Druck auf der ngeschliffenen bzw. verkratzten Stelle polieren, bis die Kratzer bzw. die Spuren des
Anschleifens nicht mehr sichtbar sind. Je nach Kratzerdichte bzw. -tiefe kann dies einige Minuten in Anspruch nehmen. Wird die Polierstelle zu trocken, muss neues Polish 1 aufgebracht werden. Übrig bleibt eine leichte Vermattung auf dem Lack. Danach Polierrückstände mit PolierVlies abwischen.
3. Finish:
SONAX Finish 2 aus der zweiten Tube auf die vorpolierte Stelle geben. Eine neue saubere Stelle des PolierVlieses wie vorher mehrmals falten, um den PolierStempel wickeln und so lange mit mittlerem Druck reiben, bis der gewünschte Oberflächenglanz erreicht ist. Abschließend Polierrückstände mit
PolierVlies abwischen.

BITTE BEACHTEN:

Vor Frost schützen.
SONAX scratch remover set paint in Aktion