Ravenol
Regular price
Sale price
€9,50 EUR
Unit price
per
Sale
Sold out
RAVENOL gear oil EPX SAE 80W-90 GL 5 was developed to eliminate the need to change the gear oil depending on the season. It can be used in both winter and summer operation.
RAVENOL Gear Oil EPX SAE 80W-90 GL 5 ensures properties such as high pressure absorption capacity, above-average viscosity-temperature behavior, high oxidation stability, low pour points, good wear protection and freedom from sludge thanks to the balanced additive combination.
Share
View full details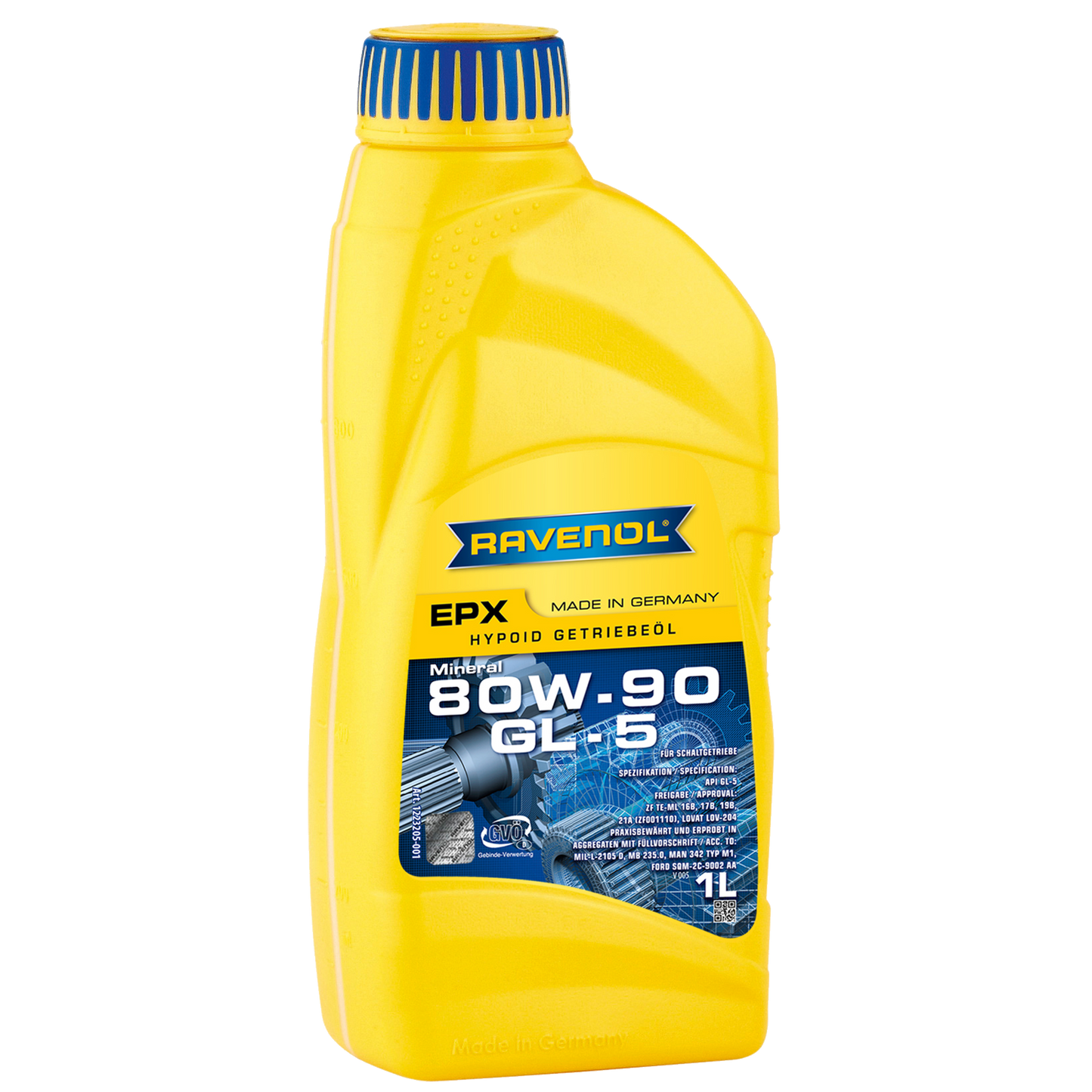 RAVENOL gear oil EPX SAE 80W-90 GL-5
Characteristics

Optimally favorable cold flow capacity.
Excellent wear protection even in winter short-haul operations
High-pressure stable lubricating film, therefore excellent wear protection under all loads
Reduced operating noise and best gear efficiency under full load, ie even with very hot oil
Excellent shear stability
Very good oxidation stability, does not foam
No oil thickening or deposits
Extremely good aging resistance
Very good viscosity-temperature behavior
Effective wear protection
Extremely good corrosion protection, no rust, no attack on non-ferrous metals
Neutral behavior towards sealing materials, ie the gearboxes remain tight, no oil losses

OIL TYPE
Application

RAVENOL gear oil EPX SAE 80W-90 GL 5 is compatible with all brand gear oils. When switching to RAVENOL gear oil EPX SAE 80W-90 GL 5, "flushing" is not necessary.

RAVENOL gear oil EPX SAE 80W-90 GL 5
can be used in hypoid transmissions, manual transmissions, axles,
Distributor, intermediate and auxiliary drives in vehicles and work machines.
Releases

SPECIFICATION

RECOMMENDATION

Ford SQM-2C-9002 AA
MAN 342 M1
MB 235.0
MIL-L-2105 D