Ravenol
Regular price
Sale price
€13,95 EUR
Unit price
per
Sale
Sold out
RAVENOL ATF 6 HP Fluid is a synthetic transmission oil based on high-quality hydrocracking oils with a special additive and inhibition that ensures that the automatic transmission functions properly.
RAVENOL ATF 6 HP Fluid is an ATF (Automatic Transmission Fluid) for all 6-speed automatic transmissions from ZF. Guarantees maximum wear protection in every operating condition.
RAVENOL ATF 6 HP Fluid has a neutral brown color.
Share
View full details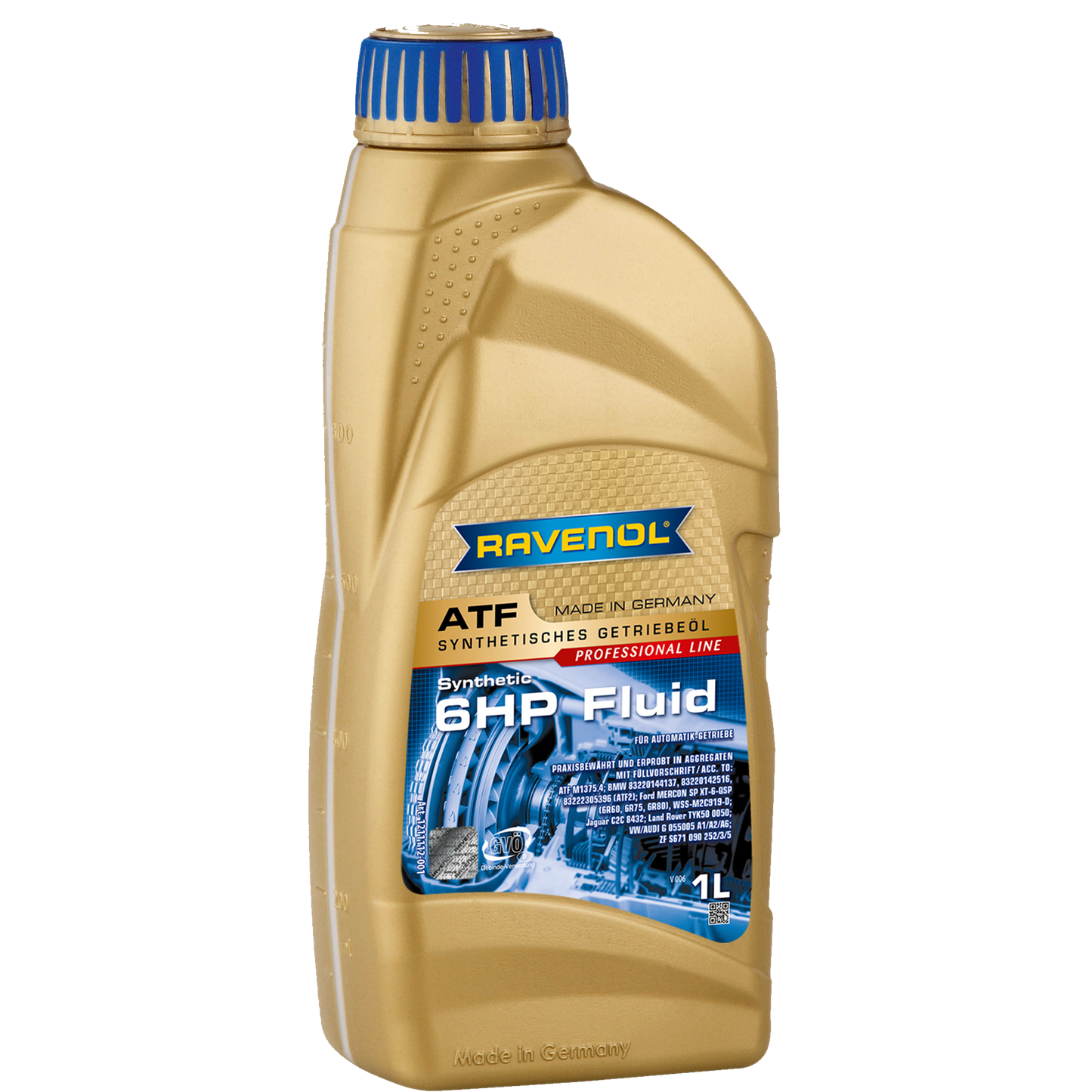 RAVENOL ATF 6 HP Fluid
Characteristics

Very good lubricity even at low temperatures in winter
High, stable viscosity index
Very low pour point
Very good oxidation stability
Maximum protection against wear, corrosion and foaming
Excellent friction coefficient consistency
A high thermal and oxidative stability
An excellent cooling ability.
Excellent shear stability
Lowest evaporation losses
Neutral behavior towards sealing materials
Neutral behavior due to inhibition towards non-ferrous metals

OIL TYPE
Application

RAVENOL ATF 6 HP Fluid was developed for use in the latest 6HP series transmissions from ZF 6HP19, 6HP21, 6HP26, 6HP28, 6HP32, 6HP34 as well as for the 5-speed automatic 5HP series. It is also backwards compatible for all previous versions of ZF 4- and 5-speed car automatic transmissions with the exception of 6HP26A61 in vehicles with AUDI W12 (original VW G055162A2 Blue only) and 6HP19X for AUDI Q7, 6HP19A, 6HP28AF (original VW G060162A2 only Green). For these specifications we recommend RAVENOL ATF 8HP Fluid.
Releases

SPECIFICATION

ATF M 1375.4
BMW 83220142516
BMW 83220144137
BMW 83222305396 (ATF2)
Ford MERCON® SP XT-6-QSP (6R60 6R75 6R80)
Ford WSS-M2C919-D
Jaguar C2C 8432
Land Rover TYK50 0050
VW/Audi G 055 005 A1
VW/Audi G 055 005 A2
VW/Audi G 055 005 A6
ZF S671 090 252
ZF S671 090 253
ZF S671 090 255