Ravenol
Regular price
Sale price
€8,95 EUR
Unit price
per
Sale
Sold out
RAVENOL ATF Dexron D II is a very high-quality transmission fluid for automatic transmissions of all vehicles and work machines based on highly refined mineral oils with appropriate additives.
Share
View full details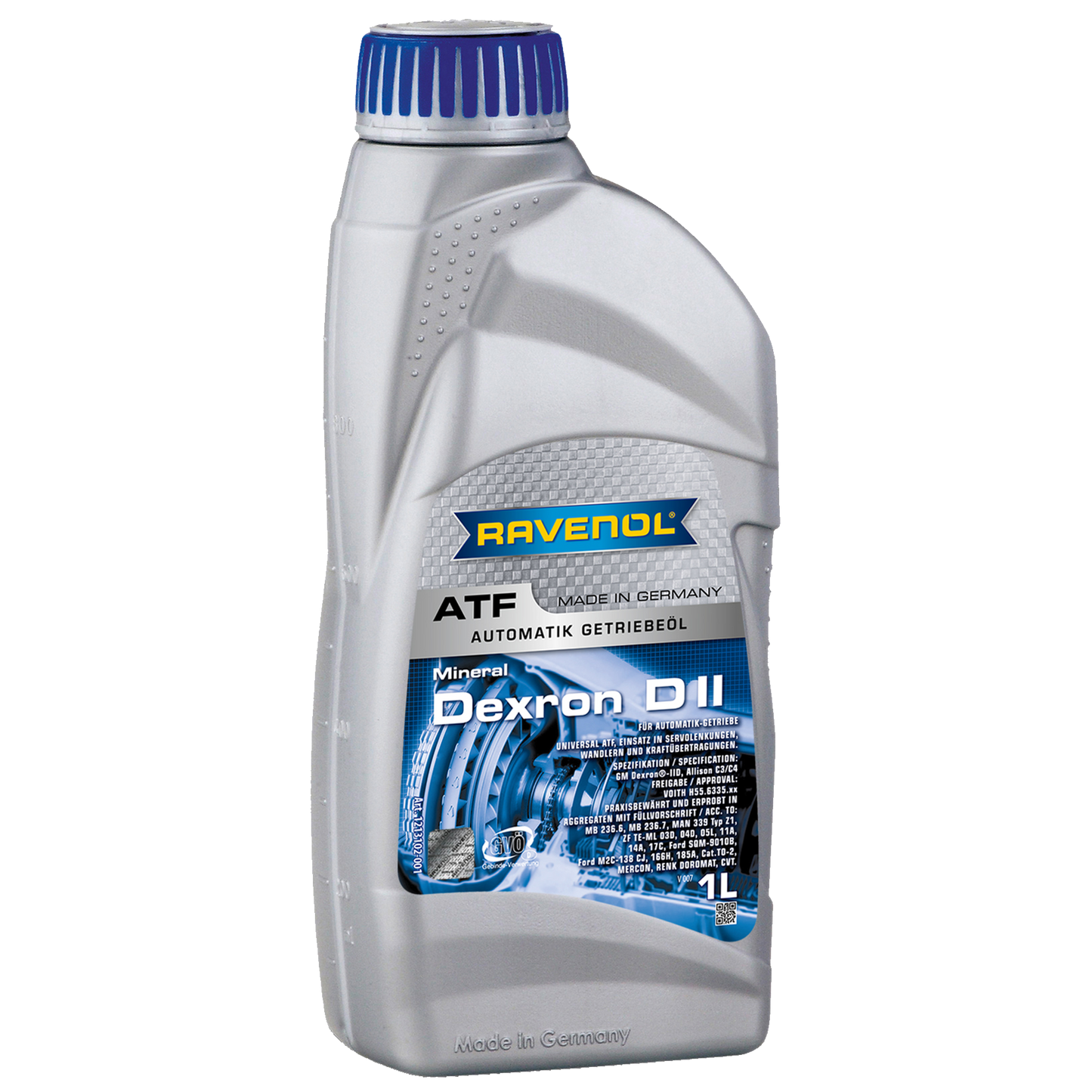 RAVENOL ATF Dexron D II
Characteristics

Reliable protection against wear, sludge, sticking and corrosion
An excellent, very shear-stable viscosity-temperature behavior
Problem-free at both very low and very high temperatures
Extremely high thermal resilience
Freedom from foam even under the heaviest loads
Neutral behavior towards sealing materials
Miscible and compatible with all brand ATFs

OIL TYPE: Mineral
Application

RAVENOL ATF Dexron D II was
developed for use in automatic transmissions, hydro-steering,
Power steering, converters and power transmissions, and can be used as
Universal ATF (Automatic Transmission Fluid) for all vehicles and
Working machines are used.

RAVENOL ATF Dexron D II is recommended if ATF type Dexron®-IID is to be used in accordance with the manufacturer's specifications.
Releases

SPECIFICATION

Allison C3
Allison C4
GM Dexron® II D

RECOMMENDATION

Caterpillar TO
CVT
Ford M2C-138 CJ
Ford M2C-166H
Ford M2C-185A
Ford MERCON®
Ford SQM-9010B
MAN 339 Z1
MB 236.6
MB 236.7
Renk Doromat
ZF TE-ML 03D
ZF TE-ML 04D
ZF TE-ML 05L
ZF TE-ML 11A
ZF TE-ML 14A
ZF TE-ML 17C