Ravenol
Regular price
Sale price
€8,95 EUR
Unit price
per
Sale
Sold out
RAVENOL OTC Concentrate Protect C12+ is an environmentally friendly silicate, borate, nitrite and phosphate-free coolant for cooling circuits of internal combustion engines based on 1.2-ethanediol (monoethylene glycol), which ensures maintenance-free corrosion and frost protection. The product is formulated as long-term coolant protection based on a proven inhibitor development with the organic additive technology OAT.
The decisive factor for the quality of a coolant is no longer just the antifreeze effect (which is automatically present in an ethylene glycol-based product), but also the rust protection effect. That's why car manufacturers subject their coolants to lengthy corrosion and cavitation tests.
RAVENOL OTC Concentrate Protect C12+ protects the cooling system from corrosion, frost and, in summer, overheating.
Share
View full details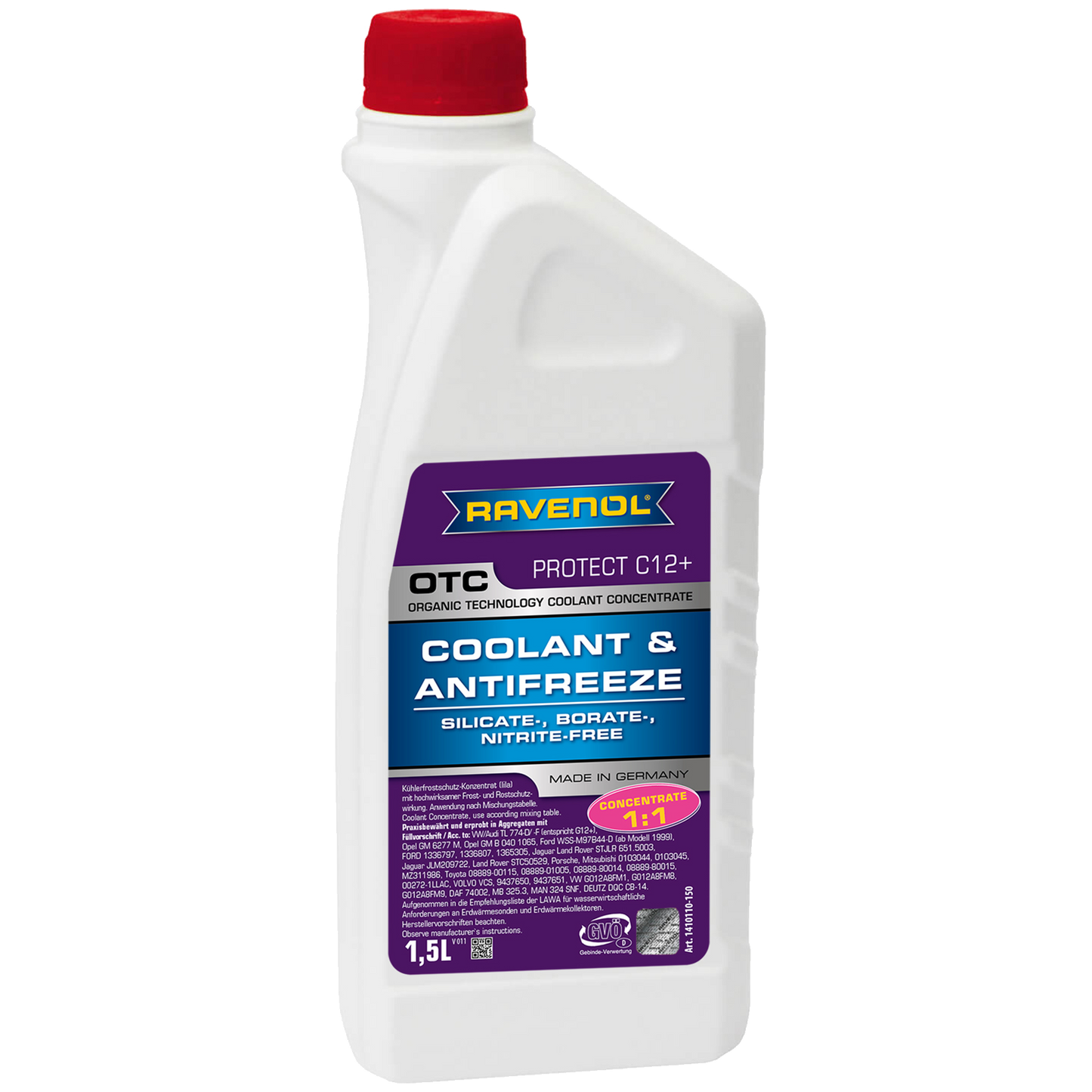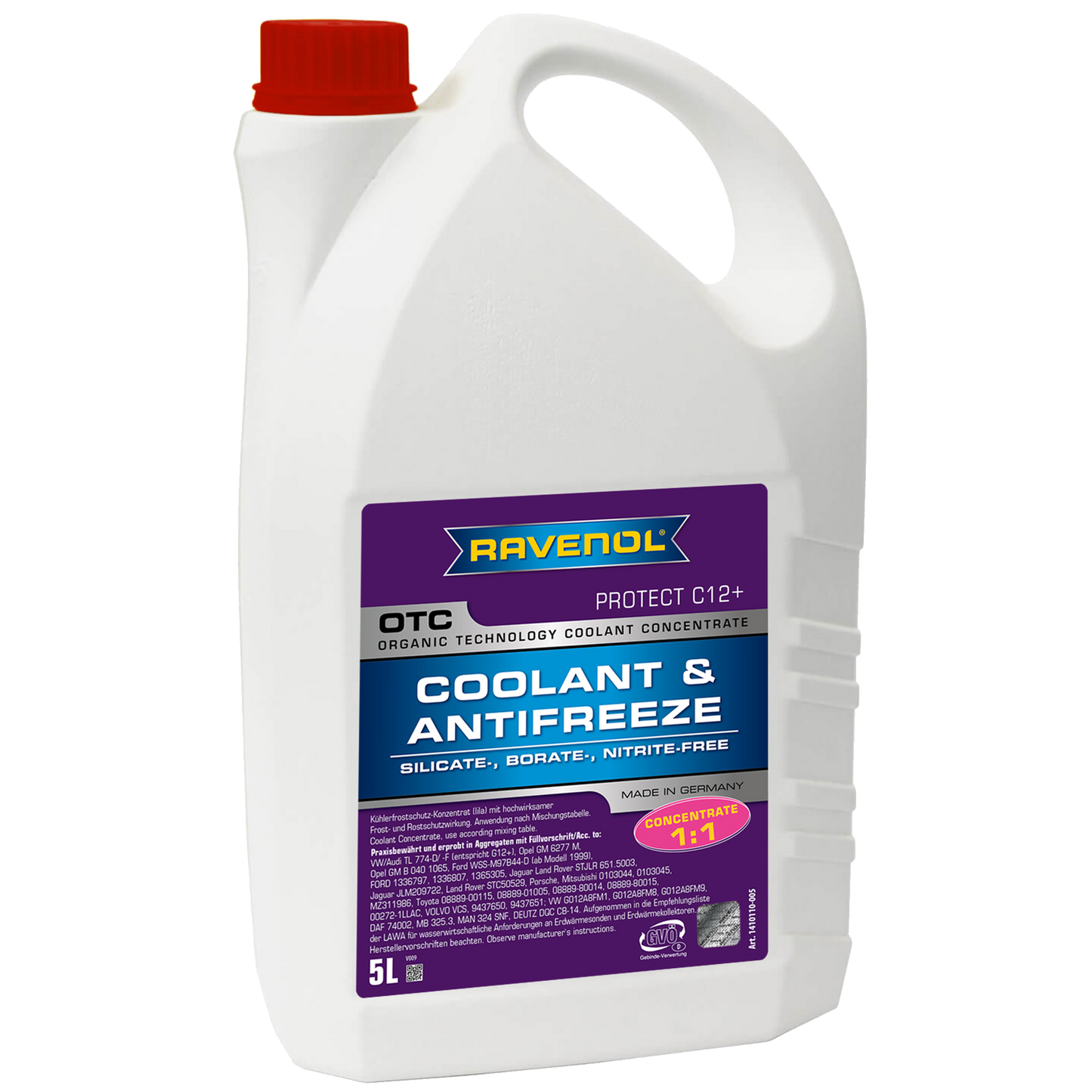 RAVENOL OTC CONCENTRATE PROTECT C12+
Characteristics

Excellent suitability for light metal engines
Good reserve alkalinity
Optimum corrosion protection through high-quality corrosion additives for all metals and metal alloys used in the cooling system
aluminum
Prevention of deposits and foam formation in the cooling system
Elastomer compatibility with the elastomers used in vehicle radiators
Can be mixed with other types of radiator antifreeze
Application

RAVENOL OTC Concentrate Protect C12+ with
highly effective frost and rust protection effect. In cooling systems
Highly effective frost and rust protection can be used with all-aluminum engines.
Use according to the mixture table. Observe manufacturer's instructions.

Instructions for use: Clean the cooling system, check for leaks, flush. RAVENOL OTC Concentrate Protect C12+ with
Mix with distilled water (according to the mixing table) and pour in.
Let the engine and heater warm up, there is a shortage of radiator antifreeze
fill up.

RAVENOL OTC Concentrate Protect C12+ can
can also be used in geothermal probes and geothermal collectors
the list of recommendations from LAWA (Federal/State Water Working Group).
Germany).

Application information MAN:

Prohibition of mixing with Type NF and Type N. Silicone cooling water hoses according to MAN 334 Type 3 (blue) may not be used in conjunction with coolants according to MAN 324 Type SNF.
Releases

RECOMMENDATION

DAF 74002
Deutz DQC CB-14
Ford 1336797
Ford 1336807
Ford 1365305
Ford WSS-M97B44-D (from model 1999)
Jaguar JLM 209722
Jaguar Land Rover STJLR 651.5003
Land Rover STC50529
MAN 324 SNF
MB 325.3
Mitsubishi 0103044
Mitsubishi 0103045
Mitsubishi MZ311986
Opel/GM 6277 M
Opel/GM B0401065
Porsche
Toyota 00272-1LLAC
Toyota 08889-00115
Toyota 08889-01005
Toyota 08889-80014
Toyota 08889-80015
VOLVO 9437650
VOLVO 9437651
VOLVO VCS
VW G 012 A8F M1
VW G 012 A8F M8
VW G 012 A8F M9
VW TL 774-F (equivalent to G12+)
VW/Audi TL 774-D (equivalent to G12+)