Ravenol
Regular price
Sale price
€13,95 EUR
Unit price
per
Sale
Sold out
RAVENOL Super Fuel Economy SFE SAE 5W-20 is a PAO (polyalphaolefin) based, fully synthetic engine oil with special USVO® and proven CleanSynto® technology for car engines (petrol and diesel) with and without turbocharging and direct injection.
Through USVO® technology we achieve extremely high viscosity stability. We avoid the disadvantages of polymeric viscosity improvers and at the same time use their advantages. In doing so, we improve engine protection, performance, optimize engine cleanliness and extend oil change intervals. The USVO® technology ensures that the product has no shear losses during the entire change interval and is extremely stable to oxidation. This unique technology helps supply oil to the engine parts that need to be lubricated more quickly, thereby minimizing friction while keeping the engine clean and efficient.
RAVENOL Super Fuel Economy SFE SAE 5W-20 uses the positive properties of tungsten, which greatly smoothes the surface structure in the engine, thereby reducing friction and wear and significantly improving mechanical efficiency.
RAVENOL Super Fuel Economy SFE SAE 5W-20 achieves a high viscosity index thanks to its formulation with special base oils. The formulation ensures the prevention of premature fuel ignition LSPI (Low Speed ​​PreIgnition), thereby preventing engine damage. Recommended for turbo petrol engines with direct injection (Turbo-GDI).
By significantly saving fuel, RAVENOL Super Fuel Economy SFE SAE 5W-20 contributes to protecting the environment by reducing emissions.
RAVENOL Super Fuel Economy SFE SAE 5W-20 ensures that friction, wear and fuel consumption are minimized and has excellent cold start properties.
RAVENOL Super Synthetic Oil SSL SAE 0W-40 guarantees operational safety in all driving conditions such as extreme stop-and-go traffic and high-speed highway driving.
Extended oil change intervals according to manufacturer instructions.
Share
View full details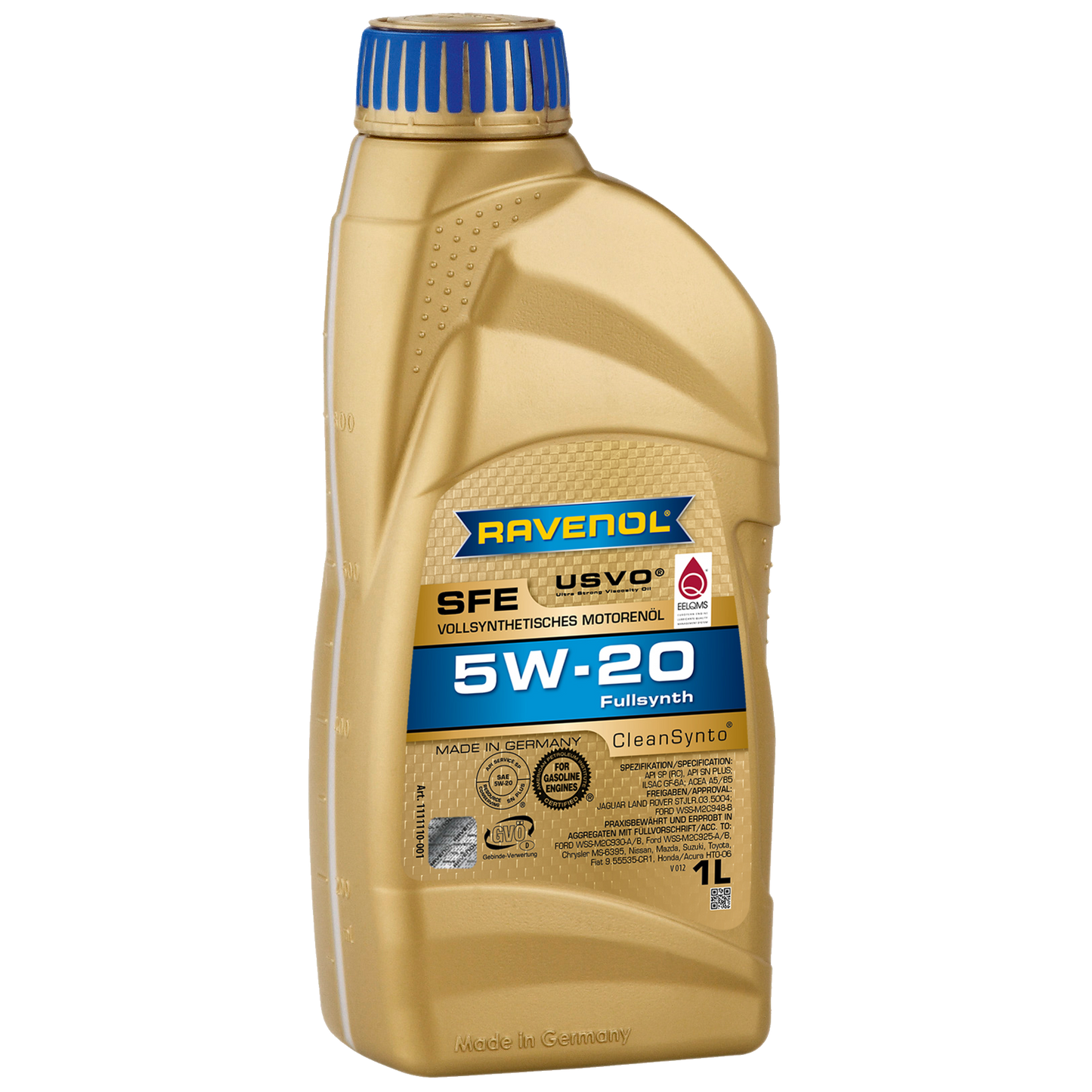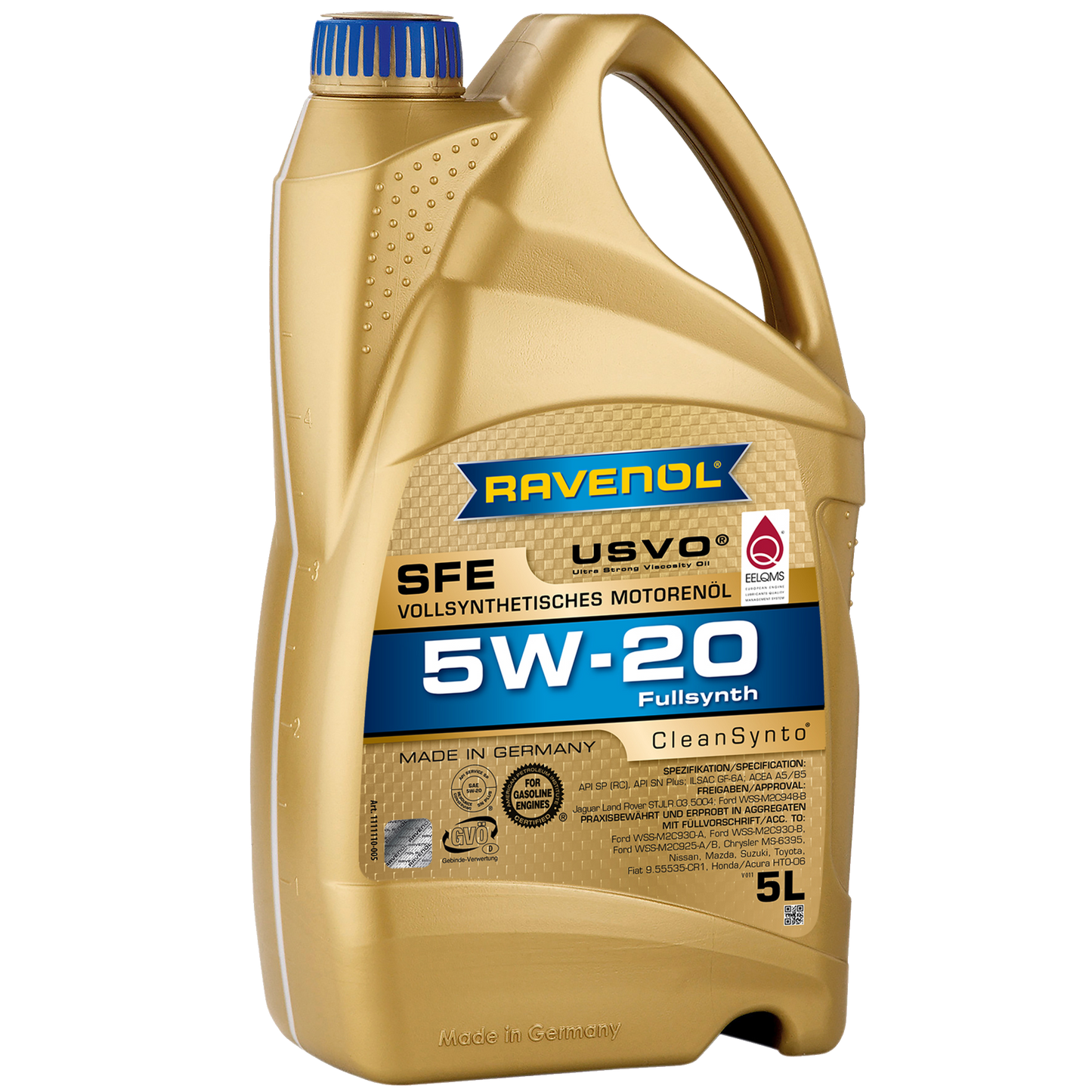 RAVENOL Super Fuel Economy SFE SAE 5W-20
Characteristics

Guarantees the fastest possible oiling of the engine
Has a high Fuel Economy (FE) effect due to the base oils and additives used.
Low tendency to evaporate, resulting in low oil consumption.
Offers protection against sludge, coking and varnish
and corrosion even under unfavorable operating conditions. No
Oil-related deposits in combustion chambers, in the piston ring zone and on
valves.
The function of the hydraulic tappets is guaranteed at all temperatures.
Stable engine oil, no NOx oxidation.
Good aging behavior, confirmed by the Hot Tube Test.
Good soot particle absorption and dispersion.
Neutral towards sealing materials.
Protects turbochargers, EPS and engines that run on fuels containing ethanol up to E85.
Compatibility with exhaust aftertreatment systems.

OIL TYPE
Application

RAVENOL Super Fuel Economy SFE SAE 5W-20 is a universal fuel-saving engine oil, a top product for modern passenger car gasoline and diesel engines.
Releases

SPECIFICATION

ACEA A5/B5
APISN Plus
API SP (RC)
ILSAC GF-6A

RELEASE

APISN Plus
API SP Resource Conserving
Ford WSS-M2C948-B
ILSAC GF-6A
Jaguar Land Rover STJLR.03.5004

RECOMMENDATION

Chrysler MS-6395
Fiat 9.55535-CR1
Ford WSS-M2C925-A
Ford WSS-M2C925-A
Ford WSS-M2C930-A
Ford WSS-M2C930-B
Honda/Acura HTO-06
Mazda
Nissan
Suzuki
Toyota