Ravenol
Regular price
Sale price
€13,95 EUR
Unit price
per
Sale
Sold out
RAVENOL VMS SAE 5W-30 is a synthetic, low-friction engine oil with CleanSynto® technology for Daimler car gasoline and diesel engines with and without turbocharging and direct injection.
RAVENOL VMS SAE 5W-30 achieves a high viscosity index thanks to its formulation with special base oils. The excellent cold start behavior ensures optimal lubrication security in the cold running phase.
By significantly saving fuel , RAVENOL VMS SAE 5W-30 contributes to protecting the environment by reducing emissions.
RAVENOL VMS SAE 5W-30 ensures that friction, wear and fuel consumption are minimized and has excellent cold start properties.
RAVENOL VMS SAE 5W-30 is an oil that effectively prevents the diesel particulate filters from clogging.
Extended oil change intervals according to manufacturer instructions.
Application instructions
RAVENOL VMS SAE 5W-30 is suitable as a high-performance, low-friction engine oil for demanding engines. It is recommended for modern passenger car gasoline and diesel engines, including turbo versions and for direct injection engines, under all operating conditions. Also used in vehicles with diesel particulate filters and in particular as Daimler multi-range service engine oil Low SPAsh in accordance with specification MB 229.52. suitable for BlueTEC OM642.
Characteristics
Fuel savings in partial and full load operation.
Excellent wear protection and high viscosity index ensure engine longevity even under high-speed driving conditions.
Excellent cold start properties even at low temperatures below -30°C.
A safe lubricating film at high operating temperatures.
Low tendency to evaporate, resulting in low oil consumption.
No oil-related deposits in combustion chambers, in the piston ring zone and on valves.
Neutrality towards sealing materials.
Extended oil change intervals protect natural resources.
OIL TYPE Synthetic
Share
View full details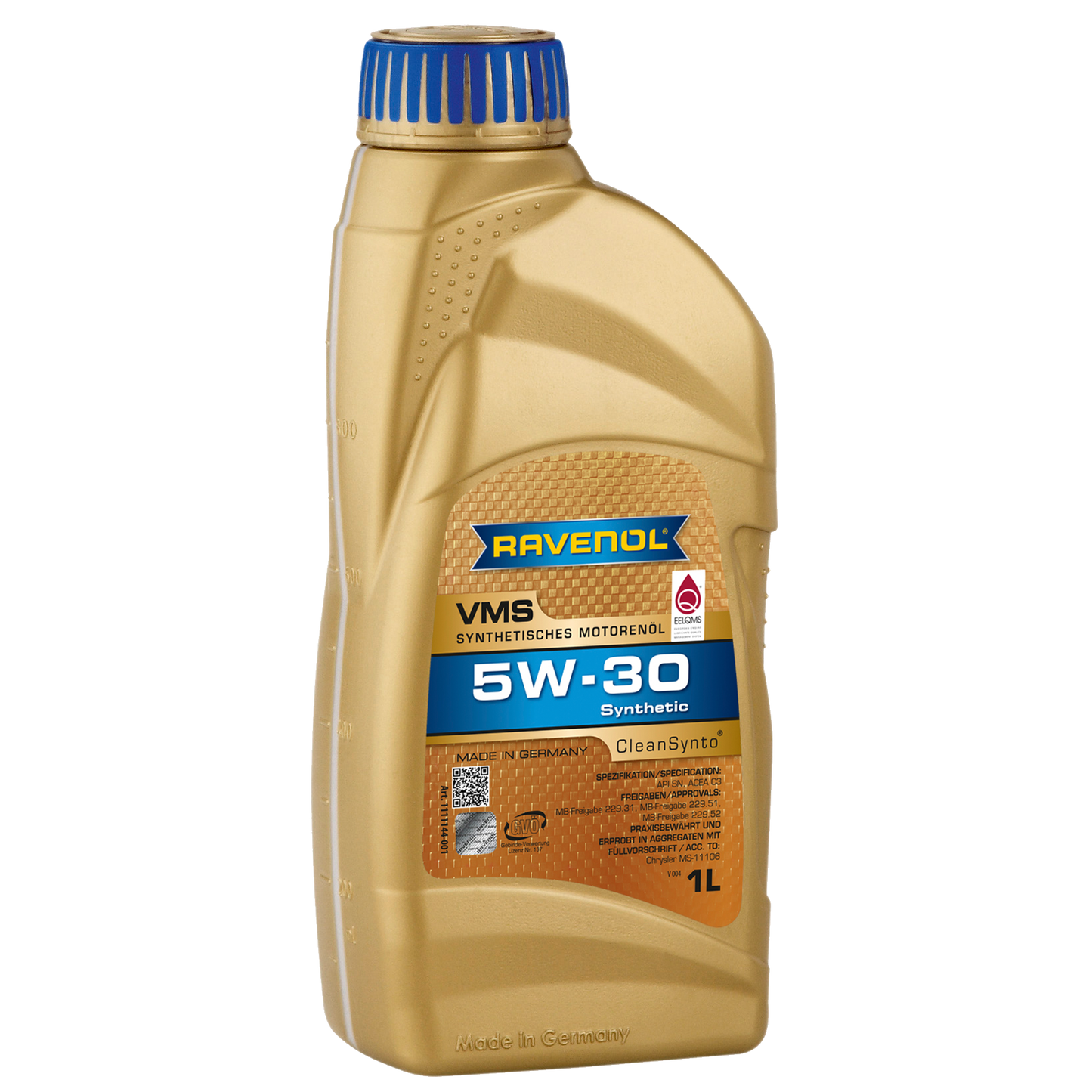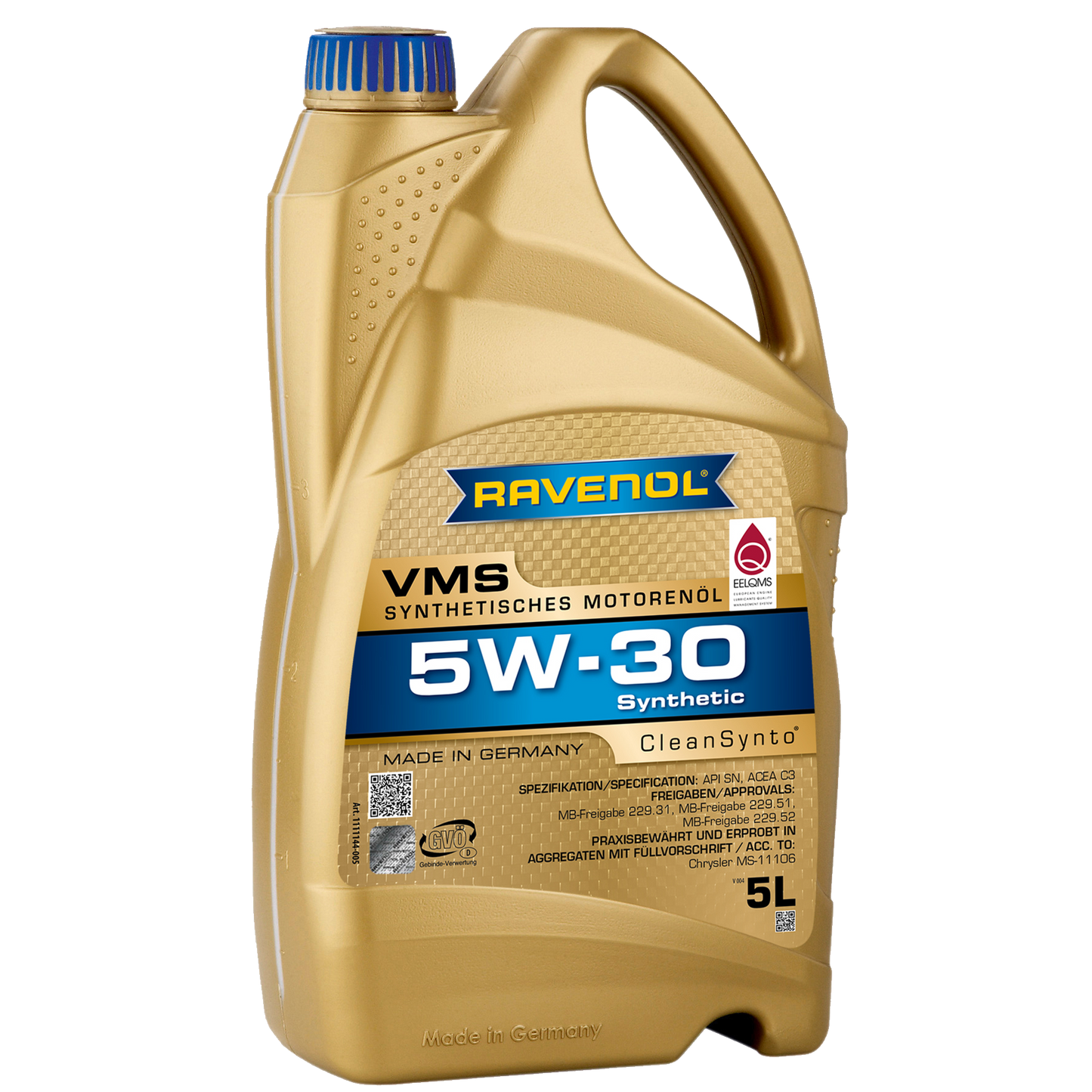 RAVENOL VMS SAE 5W-30
Eigenschaften

Kraftstoffersparnis im Teil- und Vollastbetrieb.
Hervorragender Verschleißschutz und hoher Viskositätsindex sichern
auch unter Hochgeschwindigkeits- Fahrbedingungen die Langlebigkeit des
Motors.
Hervorragende Kaltstarteigenschaften auch bei niedrigen Temperaturen von unter -30°C.
Einen sicheren Schmierfilm bei hohen Betriebstemperaturen.
Geringe Verdampfungsneigung, dadurch niedriger Ölverbrauch.
Keine ölbedingten Ablagerungen in Brennräumen, in der Kolbenringzone und an Ventilen.
Neutralität gegenüber Dichtungsmaterialien.
Verlängerte Ölwechselintervalle schützen natürliche Ressourcen.

ÖLTYP
Anwendung

RAVENOL VMS SAE 5W-30 eignet
sich als Hochleistungs-Leichtlauf-Motorenöl für anspruchsvolle Motoren.
Es wird für moderne PKW Benzin- und Dieselmotoren, einschließlich der
Turboversionen und für Direkteinspritzermotoren, unter allen Betriebsbedingungen empfohlen. Einsatz auch in Fahrzeugen mit Dieselrußpartikelfilter und insbesondere als Daimler-Mehrbereichs Service Motorenöl Low SPAsh gemäß Spezifikation MB 229.52. geeignet für BlueTEC OM642.
Freigaben

SPEZIFIKATION

FREIGABE

MB-Freigabe 229.31
MB-Freigabe 229.51
MB-Freigabe 229.52

EMPFEHLUNG