Sonax
Regular price
Sale price
€21,99 EUR
Unit price
per
Sale
Sold out
Liquid hard wax without abrasive content for all new, as good as new paintwork that has already been pre-treated with polish. Reflective deep shine, radiant colors and permanent sealing with a long-term effect thanks to the innovative Hybrid NetProtection Technology, in which special inorganic and organic components are combined to form a permanent and high-gloss protective layer for all types of paint. The surface impresses with its gentle smoothness, a brilliant deep shine and a remarkable water-beading effect. XTREME Brilliantwax 1 does not leave stubborn white spots or streaks if plastic parts accidentally come into contact with the product.
Share
View full details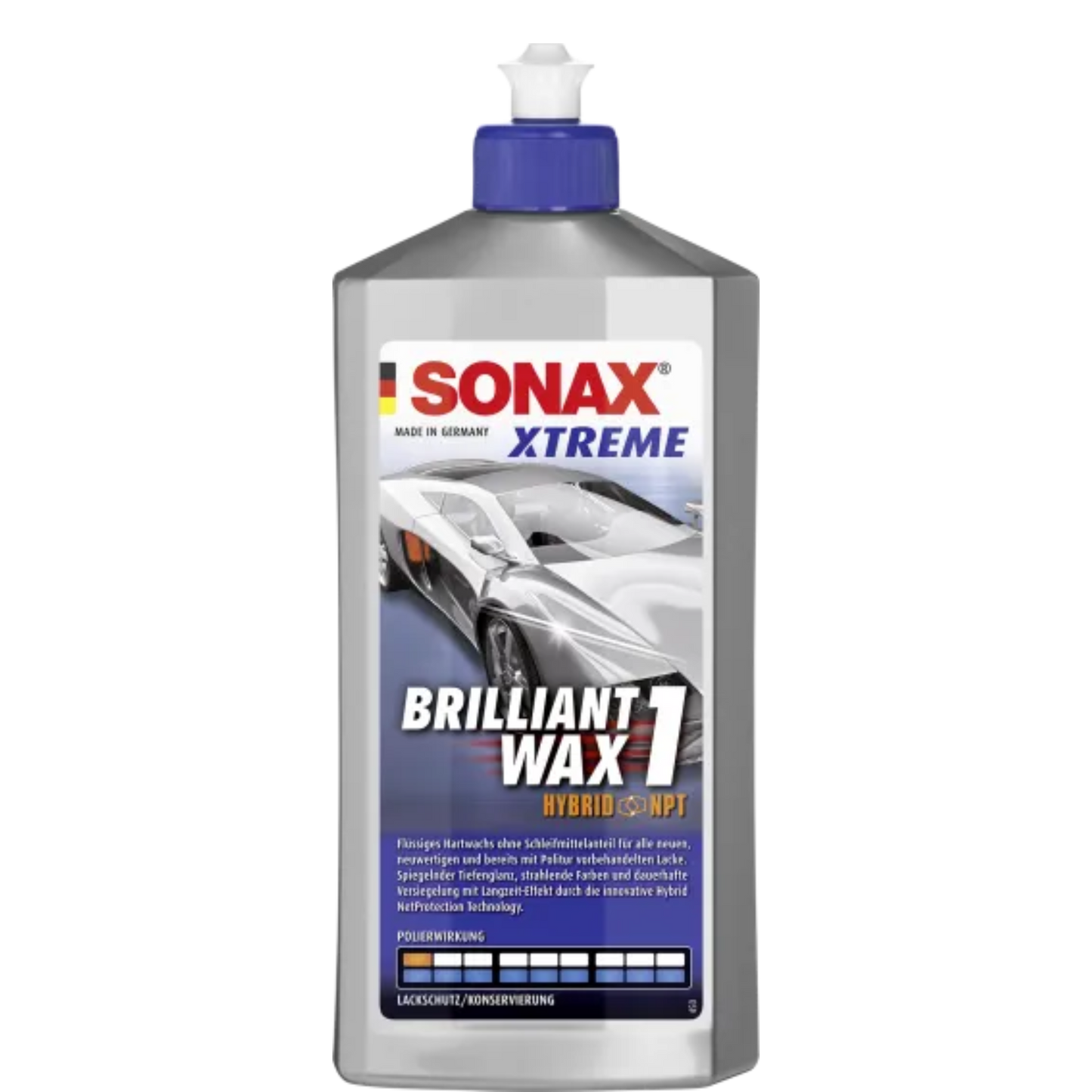 SONAX XTREME Brilliantwax 1 Hybrid NPT - 500ml
Anwendung

Fahrzeug in der Waschanlage oder per Hand waschen und abledern. Bei verkratztem oder verwittertem Lack diesen vorher mit SONAX XTREME Polish+Wax 2 oder 3
behandeln. Flasche vor Gebrauch schütteln. Das Wax mit einem SONAX ApplikationsSchwamm sparsam und dünn auf den Lack auftragen und gleichmäßig verteilen. Immer zusammenhängende Bauteile (z.B. Motorhaube, Dach) in einem Arbeitsgang behandeln. Kurz antrocknen lassen. Abschließend die Wachsrückstände mit dem SONAX MicrofaserTuch außen entfernen. SONAX XTREME BrilliantWax 1 kann auch mit einer Poliermaschine verarbeitet werden (kein Polierfell benutzen!).

BITTE BEACHTEN:

Vor Frost schützen.
SONAX XTREME Brilliantwax 1 Hybrid NPT - 500ml in Aktion