Sonax
Regular price
Sale price
€21,99 EUR
Unit price
per
Sale
Sold out
Powerful polish for matted, weathered and unkempt paintwork. Extremely fine aluminum oxide powder removes light scratches, removes weathered layers of paint and smoothes the paint. A deep, reflective shine, intensive color refreshment and basic preservation are created by the innovative Hybrid NetProtection Technology. With the new Hybrid NPT, the paint has a brilliant, deep shine that has never been achieved before, combined with a remarkable water-beading effect. For this purpose, special organic substances were combined with inorganic components to form a stable, weather-resistant network that optimally brings out the color of the polished paint. For lasting protection and a longer-lasting shine, SONAX recommends subsequent sealing with XTREME Brilliantwax 1 or XTREME Protect + Shine.
Share
View full details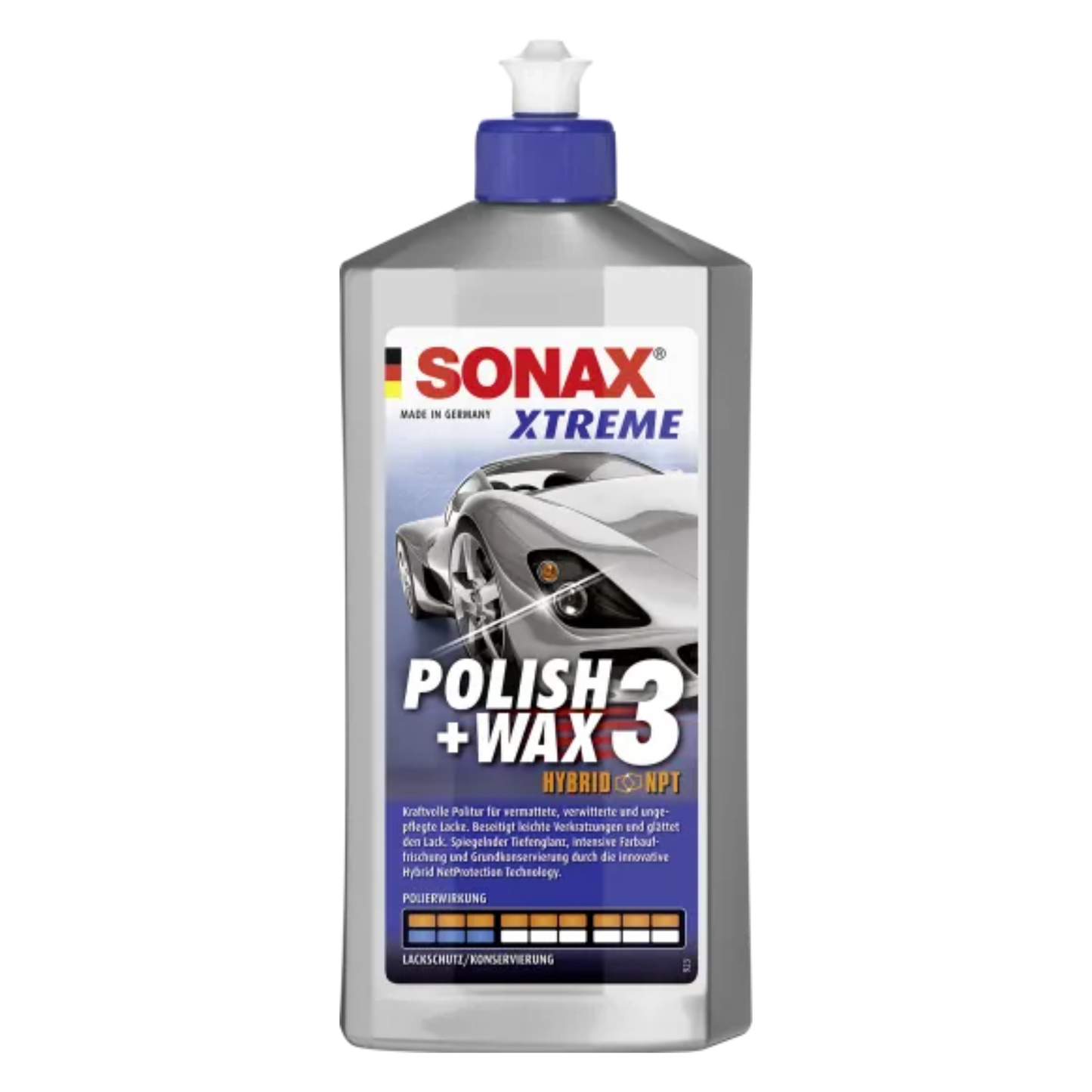 SONAX XTREME Polish + Wax 3 Hybrid NPT - 500ml
Anwendung

Fahrzeug in der Waschanlage oder per Hand waschen und abledern. Kunststoff- und Gummiteile mit SONAX XTREME KunststoffGel außen vorbehandeln. Dadurch
vermeidet man weiße Flecken, die durch Politurrückstände entstehen
können. Flasche vor Gebrauch schütteln. Die Politur mit einem SONAX P-Ball oder SONAX ApplikationsSchwamm auf den Lack auftragen, gleichmäßig verteilen und sofort mit mittlerem Druck polieren. Immer zusammenhängende Bauteile (z.B. Motorhaube, Dach) in einem Arbeitsgang behandeln. Gleich anschließend die Politurrückstände mit dem SONAX MicrofaserTuch außen entfernen, die Politur nicht antrocknen lassen. SONAX XTREME Polish+Wax 3 kann auch mit einer Poliermaschine verarbeitet werden.

BITTE BEACHTEN:

Nicht auf heißen Oberflächen anwenden. Vor Frost schützen.
SONAX XTREME Polish + Wax 3 Hybrid NPT - 500ml in Aktion