Sonax
Regular price
Sale price
€13,99 EUR
Unit price
per
Sale
Sold out
Thoroughly and gently cleans all textiles in the interior such as seats, upholstery, trim, roof lining, carpet, protective covers and sensitive Alcantara® surfaces. At the same time, the included odor eliminator quickly and permanently eliminates unpleasant odors such as cigarette smoke, animal odors, spilled milk, etc. A subtle fresh scent remains. Leaves no dirt marks. Removes even stubborn stains such as chocolate, ice cream, cola, coffee, ketchup etc. and refreshes the colors.
Share
View full details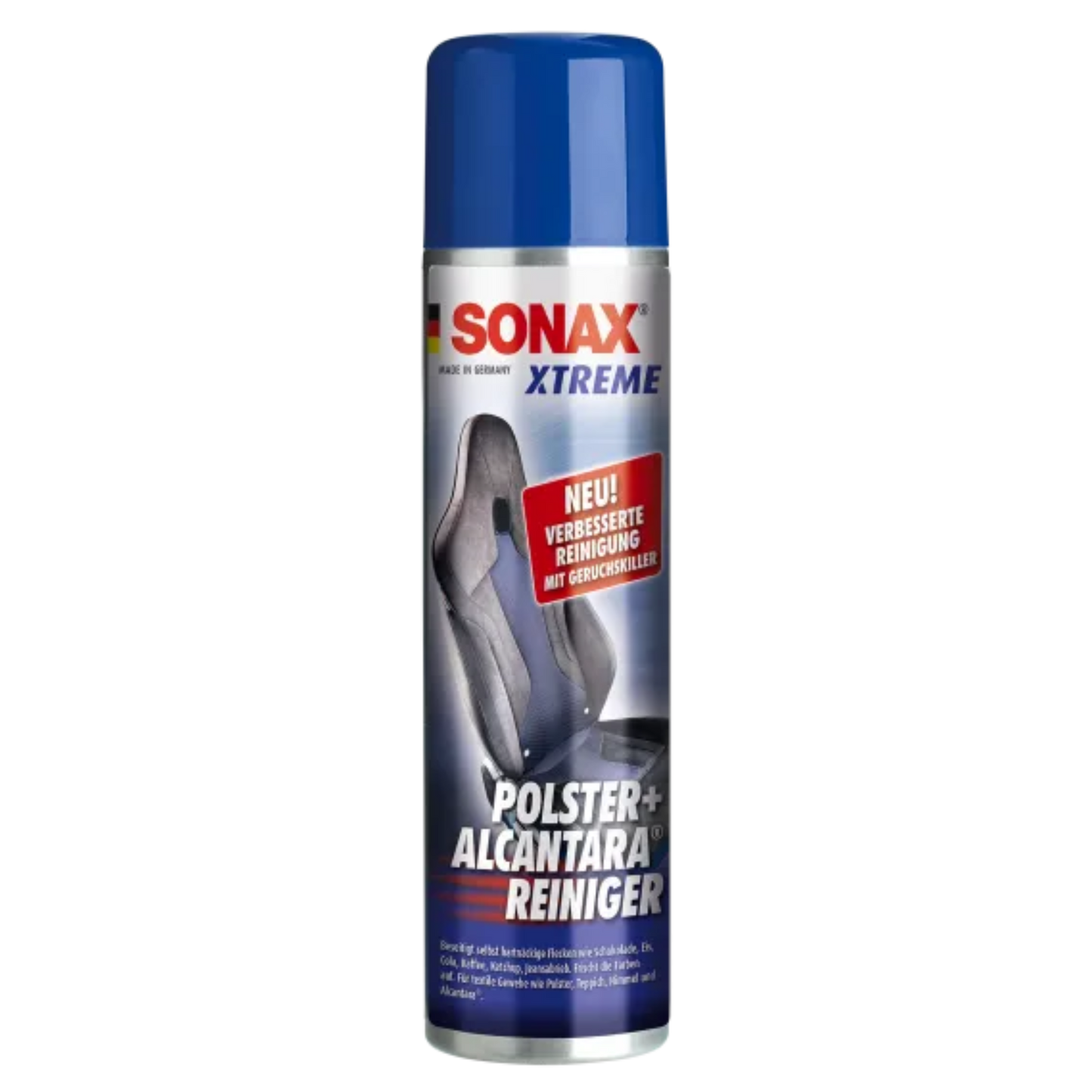 SONAX XTREME upholstery + Alcantara® cleaner, 400ml
Anwendung

Groben Schmutz absaugen. Vor Gebrauch schütteln. Gewebe an einer verdeckten Stelle auf Farbechtheit testen. Verschmutzte Flächen gleichmäßig leicht
befeuchten, Schaum auf die verschmutzten Flächen auftragen und mit SONAX Textil+Lederbürste oder feuchtem Schwamm einreiben. 5 – 10 Minuten einwirken lassen. Den gelösten Schmutz mit einem sauberen und feuchten MicrofaserTuch aufnehmen, zwischendurch das Tuch mit klarem Wasser auswaschen. Vorgang so lange wiederholen, bis kein Schmutz mehr im Tuch sichtbar ist. Bei besonders hartnäckigen Verschmutzungen mehrmals anwenden.

BITTE BEACHTEN:

Vor Frost schützen. Um
Farb- und Helligkeitsunterschiede zwischen behandelten und unbehandelten
Stellen zu vermeiden, immer auf der ganzen Fläche (z.B. Sitzfläche)
anwenden.
SONAX XTREME upholstery + Alcantara® cleaner, 400ml in Aktion