Sonax
Regular price
Sale price
€12,00 EUR
Unit price
per
Sale
Sold out
Effective concentrate for cleaning painted surfaces, metal, glass, plastic and rubber with a special drying aid. This ensures that the treated surfaces dry without residue and stains. Washing without leather - quick and easy in 2 stages: Stage 1: Thorough hand wash using active cleaning ingredients. Stage 2: Automatic drying of the surfaces using surface-active surfactants – without leathering!
Share
View full details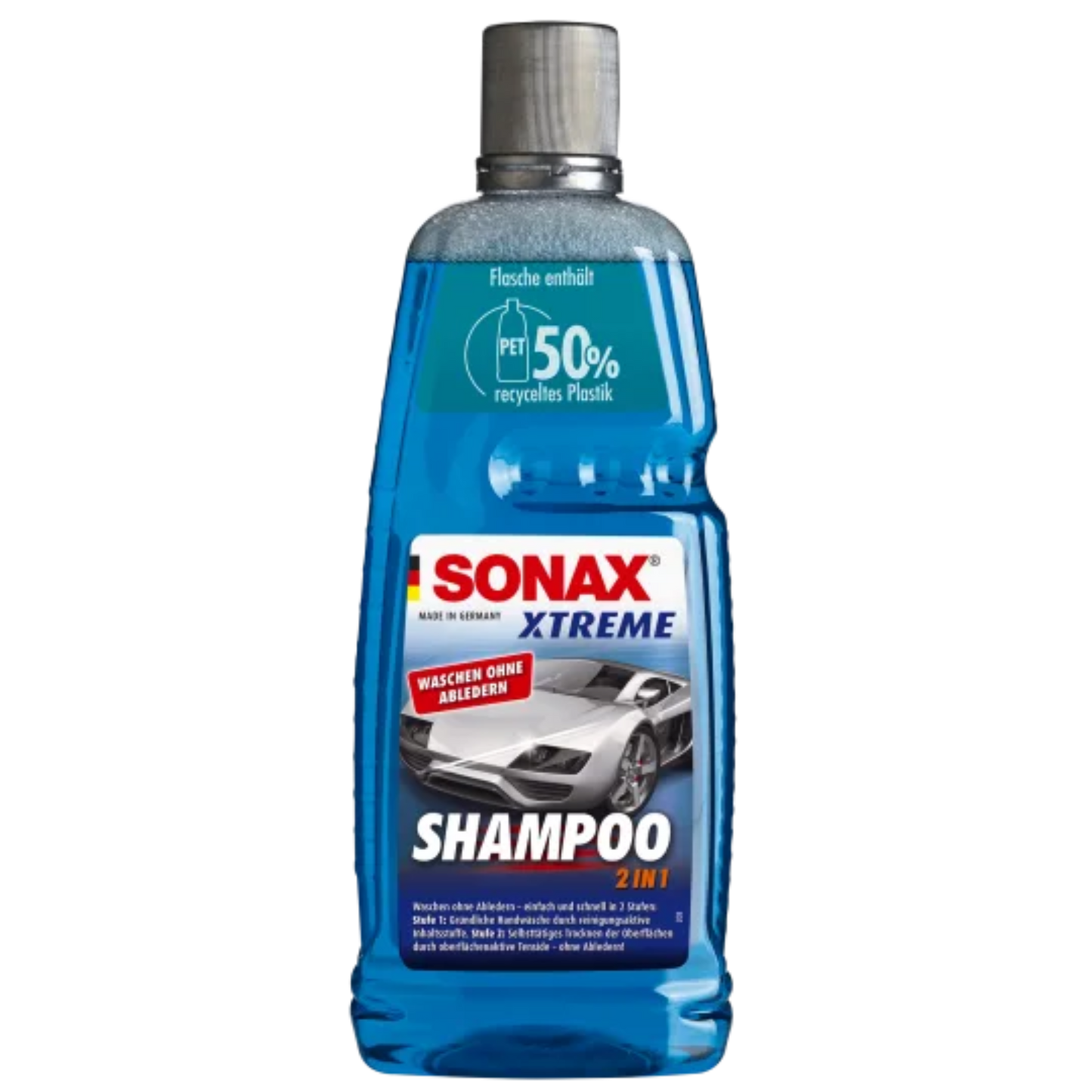 SONAX XTREME Shampoo 2 in 1 - 1l
Anwendung

Schmutz vom Fahrzeug mit starkem Wasserstrahl entfernen. 2 Verschlusskappen Shampoo in 10 Liter warmem Wasser auflösen und aufschäumen. Teilfläche des Wagens (z.B. Dach, Motorhaube etc.) mit SONAX MultiSchwamm waschen. Shampoo- und Schmutzreste sofort mit viel klarem Wasser abspülen. Anschließend nächste Teilfläche waschen. Nach der Wäsche Eimer ausleeren und ausspülen. 1/2 Verschlusskappe Shampoo in 10 Liter kaltem Wasser auflösen. Nicht aufschäumen. Fahrzeug am Dach beginnend von oben nach unten großflächig abgießen. Je nach Größe des Fahrzeugs kann ein weiterer Eimer notwendig sein. Der Wasserfilm läuft langsam ab und dünnt sich immer mehr aus. Das Fahrzeug trocknet selbsttätig – ohne Abledern!

BITTE BEACHTEN:

Nicht auf heißen Oberflächen anwenden, nicht antrocknen lassen. Vor Frost schützen.
SONAX XTREME Shampoo 2 in 1 - 1l in Aktion